Co-Occurring Disorders Training for Peer Counselors
July 11, 2016 @ 8:30 am

-

July 12, 2016 @ 4:30 pm
This workshop is interactive and provides useful tools for Peer Counselors working with people who experience co-occurring disorders. It will define co-occurring disorders, introduce study results and cover the SAMHSA perspective, Stages of Change, and Relapse Prevention. Peer counselors will learn how to work with people who experience co-occurring disorders. Attendees are expected to be in attendance both days to receive a certificate of completion.
Please note, workshop sessions run from 8:30 am to 4:30 pm both days.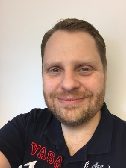 Josh Wallace was born in Lubbock, TX, and currently lives in Seattle, WA. After building a career in the health and welfare benefits industry, undiagnosed mental health issues lead to a dark period of homeless intravenous drug addiction. Thankfully, a series of events lead to life changing professional and peer mental health and addiction support services.
For Josh, peer support services were paramount to addressing feelings of isolation and gave him a community of people with shared experience. He would go on to start his own peer support groups for positive thoughts, addiction and mental health issues before becoming a trainer for peer group facilitation. When Josh returned to work in 2009, it was in development and advocacy of peer emotional support services with Seattle Area Support Groups where he is Executive Director today. In 2011, he co-founded one of the first paid peer recovery coaching programs in Washington state. This program would continue to grow under his direction to a peer coaching program for people living with issues of mental health, addiction, and/or chronic illness. He is a founding board member of the Washington Recovery Alliance and also provides peer programming consulting services to organizations and tribal communities looking to build peer support service programming.